Description
Foxwell NT809 Features and Benefits:
Smart Scan: Android 9.0 operating system + 7" Touch Screen, gives you a fast and technological experience.
Bi-Directional: Equipped with Bi-directional control, NT809 significantly reduces the mechanics' diagnostic time. Follow this manual to update NT809 to become a Bi-Directional Scanner: Update NT809.
Full OBDII Functions + Full System Diagnostics:

 You will not have to purchase a separate car code reader to perform different functions.

30 Reset Services: 

Comes with the most commonly used service reset functions, fits all you needs.

New Update: WiFi Online Touch Update & Automotive Update, helps you faster troubleshooting!
Auto VIN:

Auto-VIN technology quickly and directly obtains the vehicle's information, means you no need to input manually.

Screen Display:

Show the real-time battery voltage & vehicle model on the top of page

Live Data Record & Playback: Merge 

4 in 1

 live data in graph + In Single & Multi-graph Type
Diagnostic Report: Save, share, and print the overall inspection report for further diagnostic analysis.
Online Feedback & Suggestions: Submit your issues in the diagnostic process and get Foxwell professional troubleshooting
Who Need It: Foxwell NT809 OBD2 scanner fits for Technician, advance DIY, garage, car dealer, used car dealer, auto repair shop, automotive engineer, diagnostic tech, truck man, automobile tech, home mechanic, DIY beginner, automotive student, backyard mechanic, retired mechanic, weekend DIY, individual.
Note:
Foxwell NT809 doesn't support control module coding and programming.
Foxwell NT809 doesn't support key programming.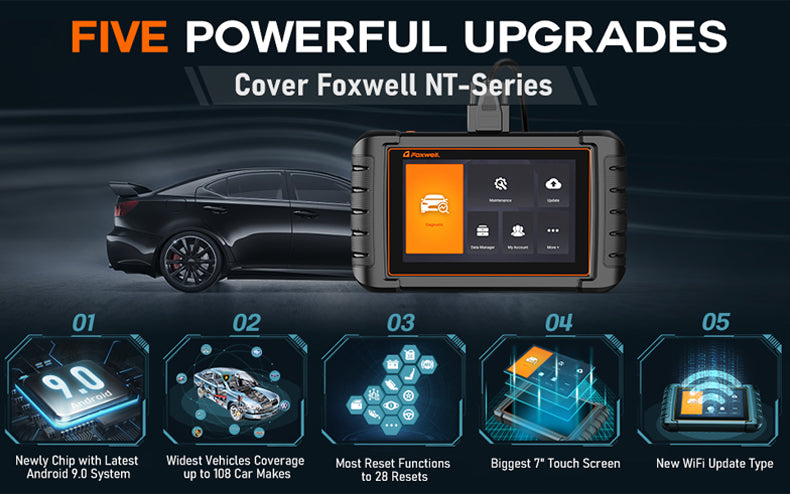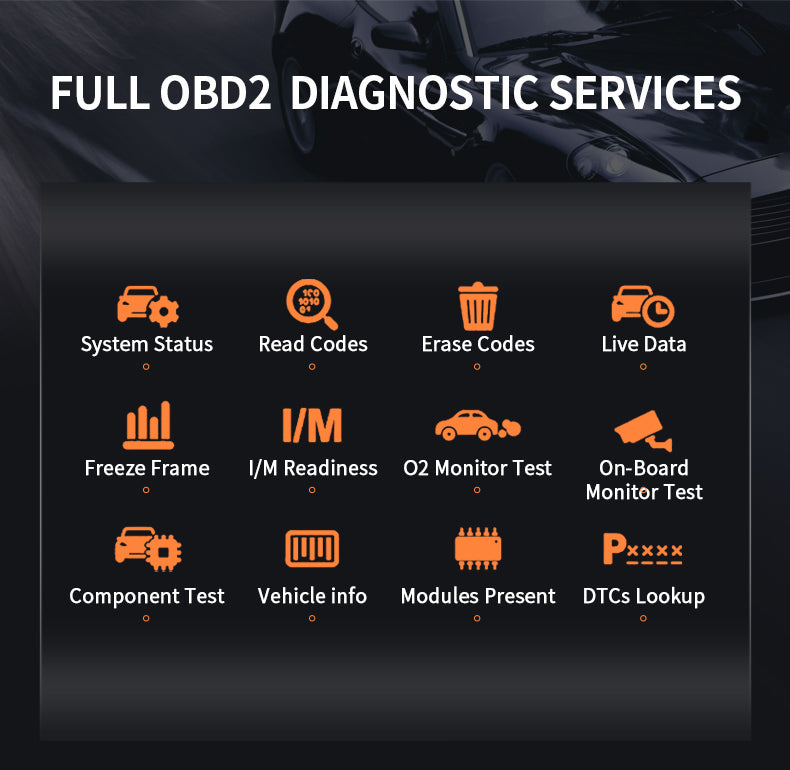 Foxwell NT809 Supports Full OBD2 Functions
Say goodbye to the hassle of manual check-ups via this check engine code reader. Quickly correct Check Engine Light warning on most OBD2/CAN compatible vehicles. Easily access to your emission status with one simple click I/M Readiness; and being filled with features for live data readings, freeze frame data, plus EVAP system, onboard monitor test means this scan tool checks all daily car care boxes.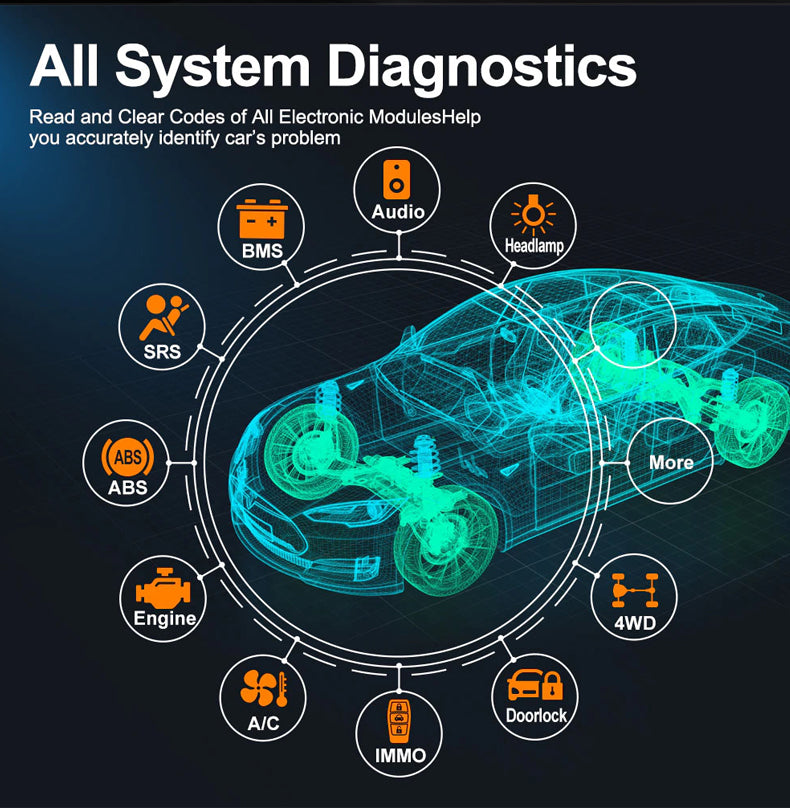 Foxwell NT809 Supports All System Diagnose
With NT809, full system diagnostic scanner, you can have access to diagnose systems as Engine, Transmission, Airbag, ABS, ESP, TPMS, Immobilizer, Steering, Radio, Air Conditioning, and more. With full system scanner, you don't need to buy a separate diagnostic tool to scan all available ECU modules of the tested vehicle. Foxwell NT809 gives you chance to figure out car issues with performing a comprehensive scanning quickly and effectively. It provides possibility for you to fix and service your car at home or anywhere, anytime, even in outdoor.

With 28+ Service Functions, Foxwell NT809 Meets All Your Needs
Foxwell NT809 automotive scanner comes with the most commonly used service reset functions, helps you diagnose and calibrate faults in your vehicles accurately when the warning light is on.
Oil Light Reset, ABS Bleeding, Battery Matching, DPF Regeneration, SAS Match, Injector Coding, EPB Reset, TPS, Airbag(Replace Airbag ECU Module), Seat Match, A/F Reset, Language Change, TPMS Reset, EGR Adaption, Headlamp Reset, Cluster, Clutch Adaptation, CVT, EVAP Test, Gear Learn, ODS & OPDS, Oxygen Sensor Test, Prime Fuel Pump, TCM Oil, Transmission Adaptation, TURBO, Windows-door.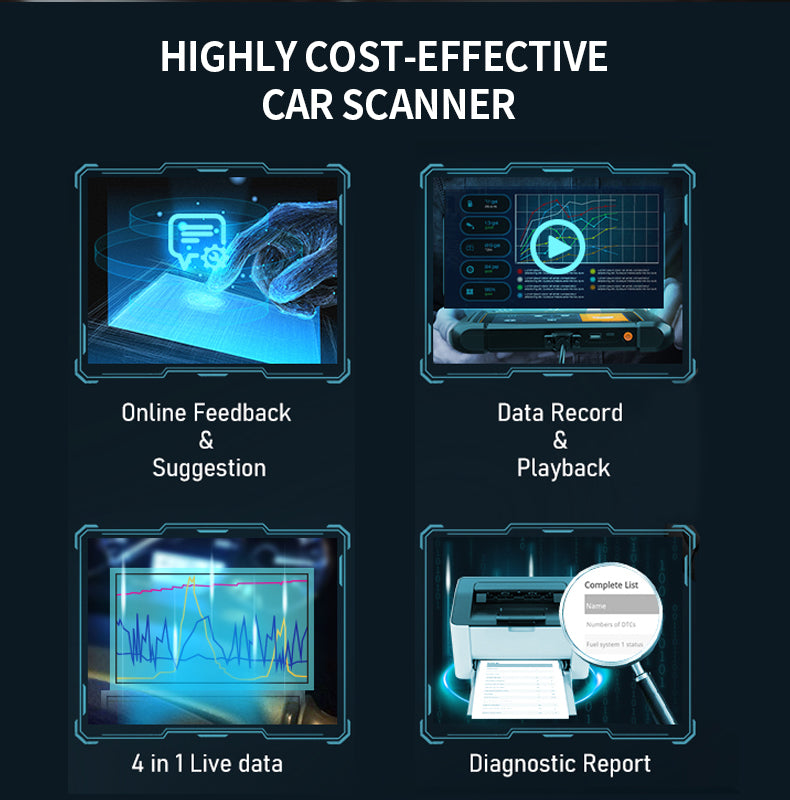 Equipped with the enhanced Android 9.0 operating system, 4000mAh powerful battery and 32 GB internal storage, touchable diagnosis, it improved processing speed and allows customers to enjoy a fast and technological experience.
Compared with the traditional complicated process of updating through a computer, it is faster and more convenient to perform a one-click update of your diagnostic software and APK directly on the car scanner Via WiFi. You can also update the software anytime and anywhere by connecting to mobile WiFi under a stable network. No training required, easy to get started.
[AutoVIN] + [Data Print] + [Online Feedback & Suggestion]
All the diagnostic results can be generated to a report. You can transfer the report you want via E-mail/ Bluetooth/ Printer. It also supports print diagnosis data. Meanwhile, you can use the "Feedback" function to get professional guidance from our technicians when encountering any problems during the operation.
Foxwell NT809 Update Cost
Foxwell provides free update for NT809 in 3 years since the day you activate the scanner. After 3 years, you will need to pay extra fees for the software update. Charge: $150 for 1 year, $240 for 2 years, $300 for 3 years. If you don't upgrade the software after 3 years, the NT809 will also work, but you cannot use it with newly-developed features or vehicle models.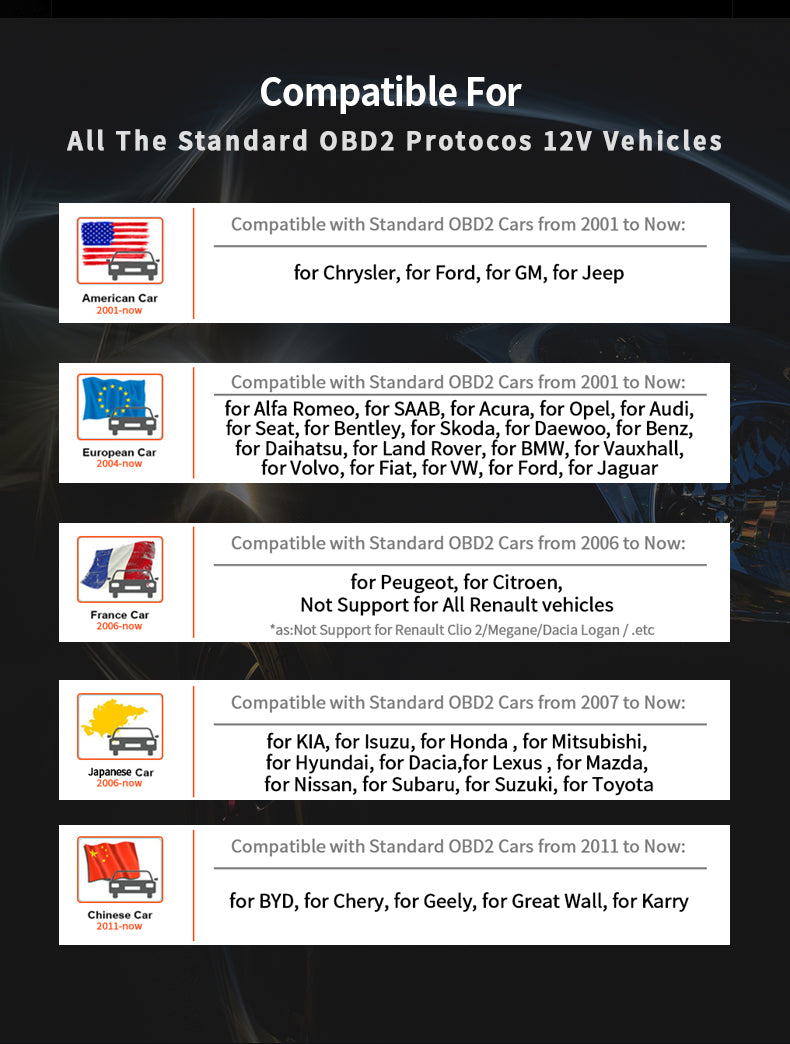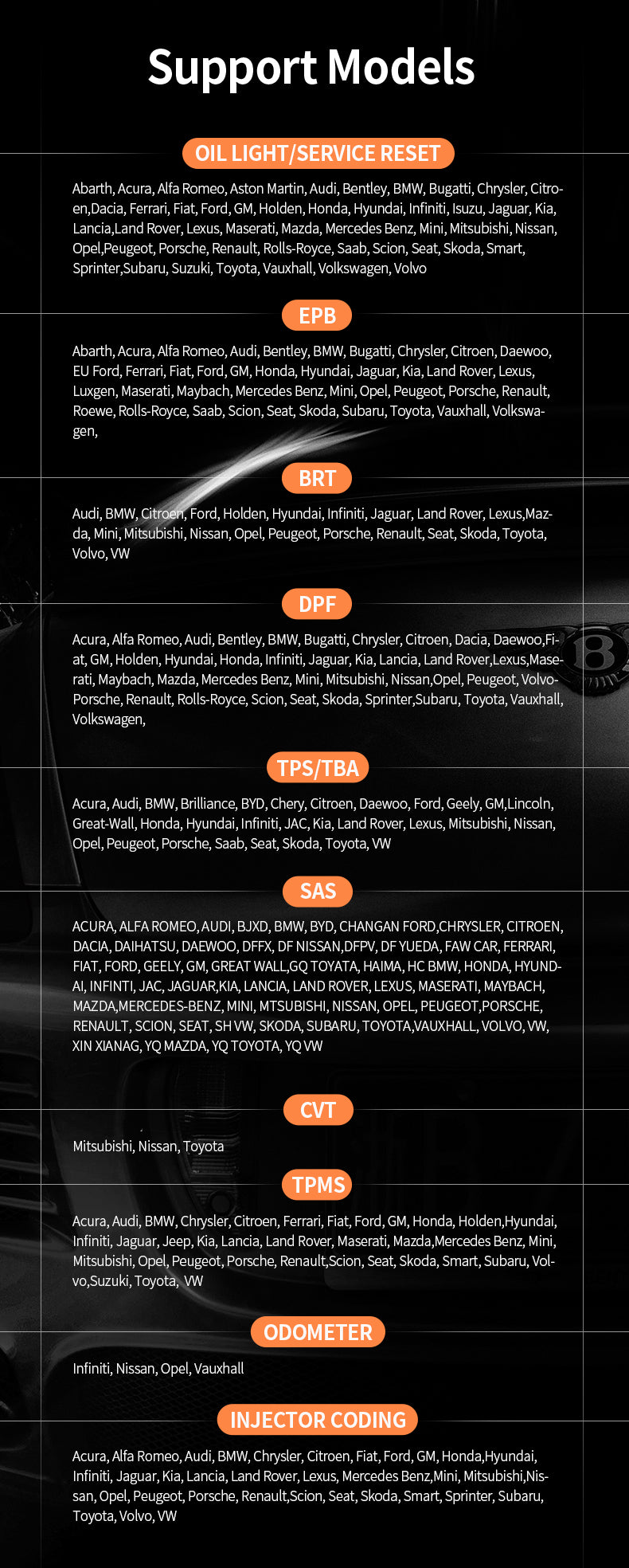 Tech Specs
|Specifications

|Kit Includes
|Download