Description
Note: Foxwell GT60 doesn't support control module coding and programming. Foxwell GT60 doesn't support key programming.
GT60 is a new full system professional diagnostic tool, Built on the Android system and with the 4-core processor, GT60 has the power to scan vehicle systems quickly and efficiently. It includes great features such as live data and service functions, support 20+ special functions, making the GT60 fabulous value for money.
Foxwell GT60 Professional Scanner Features and Benifits:
1. 7" TFT capacitive LCD touchscreen that will respond to glove use.
2. Support multiple vehicle makes, compatible with the lates 2018-2019 Models.
3. Compatible with Both OBD1 and OBD2 cars, SUVS, minivans, light-duty trucks sold worldwide.
4. Identifies car qiuckly and easily with one-key VIN reading.
5. Auto Scan Function scans vehicle systems in just seconds.
6. Reads and clears diagnostic trouble codes and resets MILS.
7. View live vehicle sensor date in test and graph formats.
8. Merges interactive live sensor graphs for easy and intuitive diagnosis.
9. Live date self learning and alarm when live date over range.
10. Records and playbacks your date logs for off-vehicle review and analysis.
11. Support the most commonly required service features like brake deactivation, service resets and BCM/SIR setup.
12. Instant support available from our technical team by TeamViewer remote control.
13. One touch update via wifi makes the scanner keep the lates system status at all times.
14. Offers excellent shop management capability by keeping customer information and test records.
15. 4000AHM rechargeable lithium-polymer Battery, Via 5v AC/DC power supply.
Full System Diagnosis Quick and Easily locate Any Problems. All controlled modules diagnosis, including:
Engine System; Powertrain System; Airbags System; ABS System; Transmission System; Brake System; Alarm System; Air Conditioning System; Door&Window System; Keyless Entry System; TPMS System; Steering System; Wheel System; Fuel System and any other systems that controlled the car computer.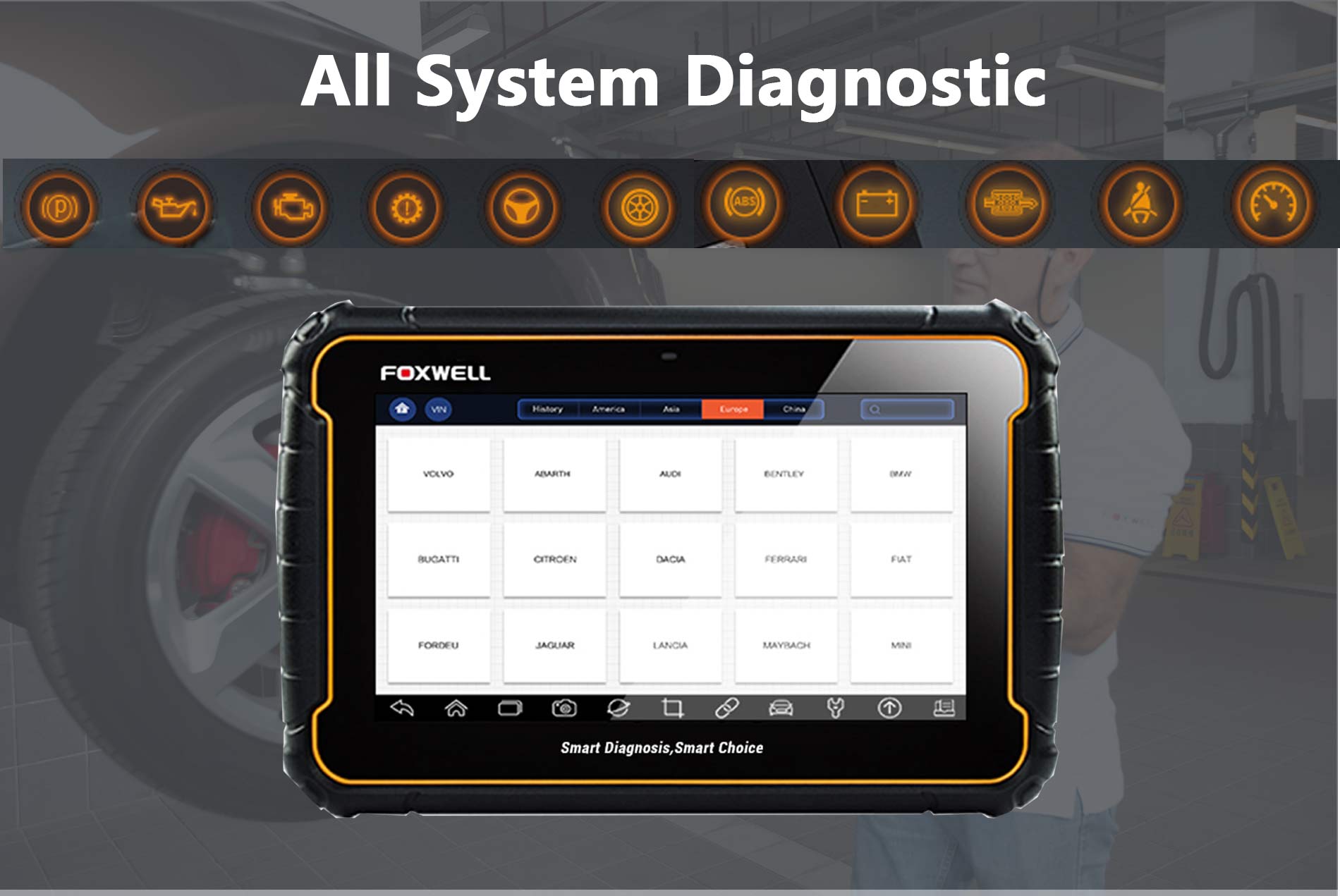 AUTO VIN Technology:
Foxwell GT60 is equipped with latest VIN-based Auto VIN Scan technology that can retrieve vehicle brand, make, model and year at a single touch.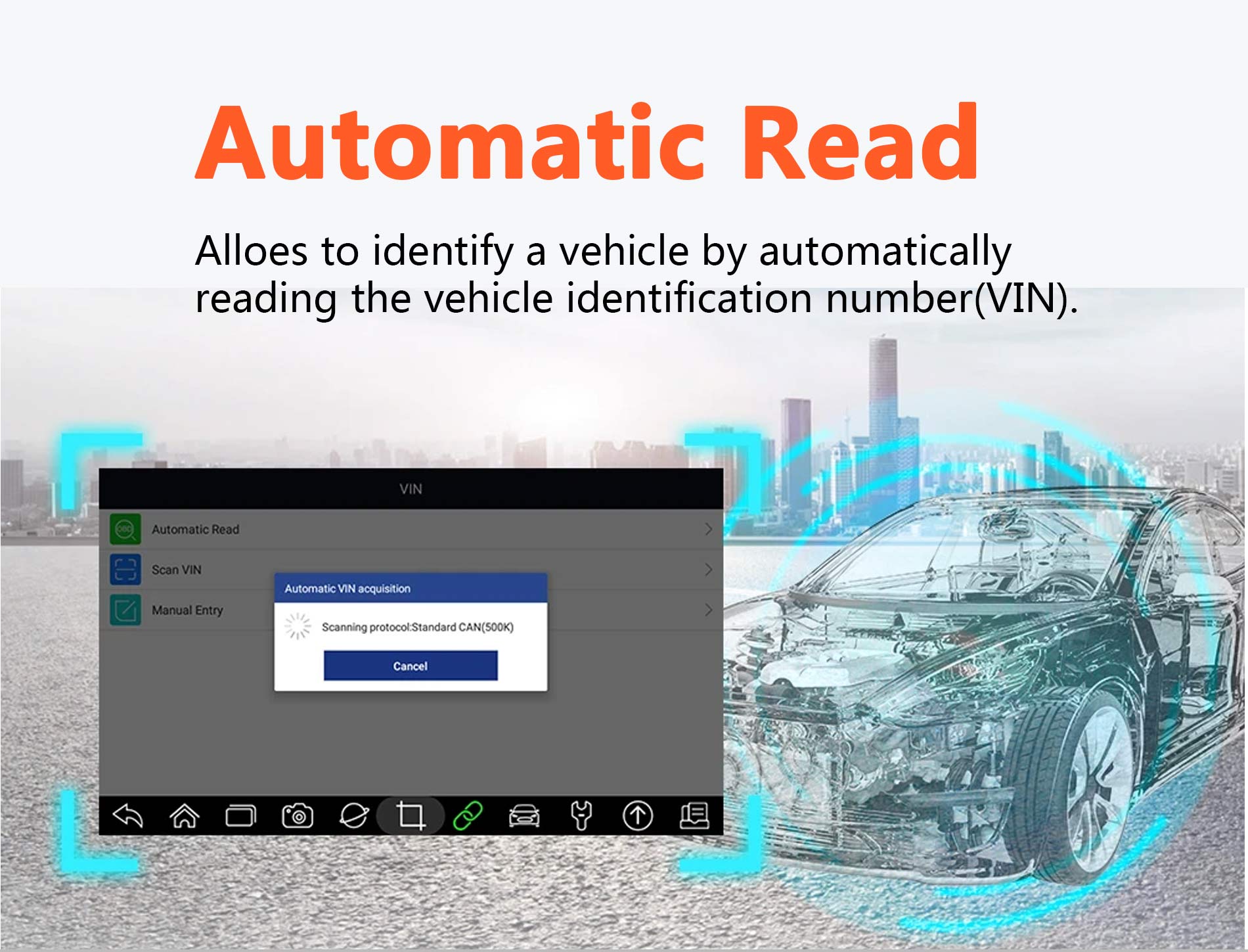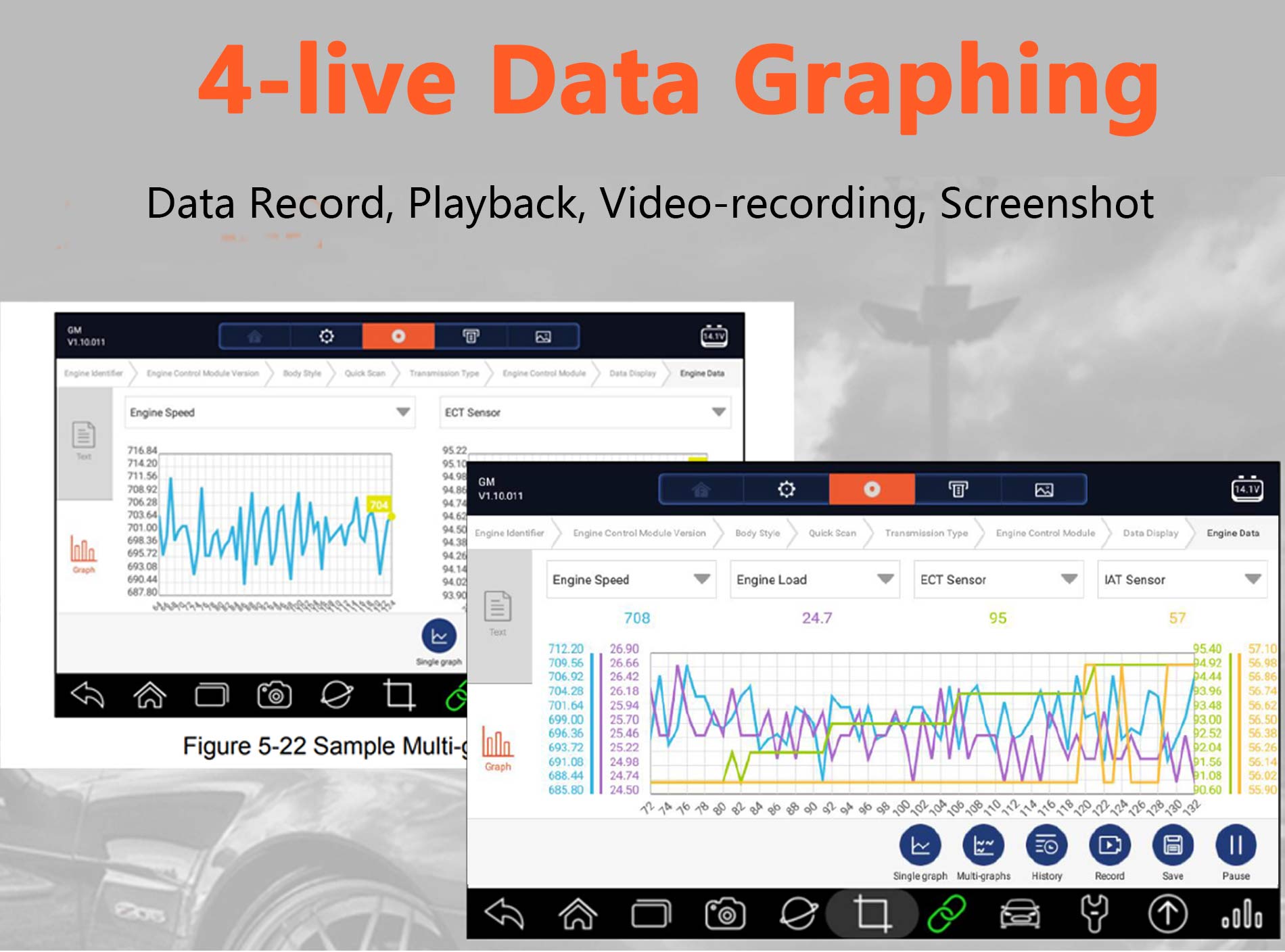 Powerful 20+ Special Service Functions: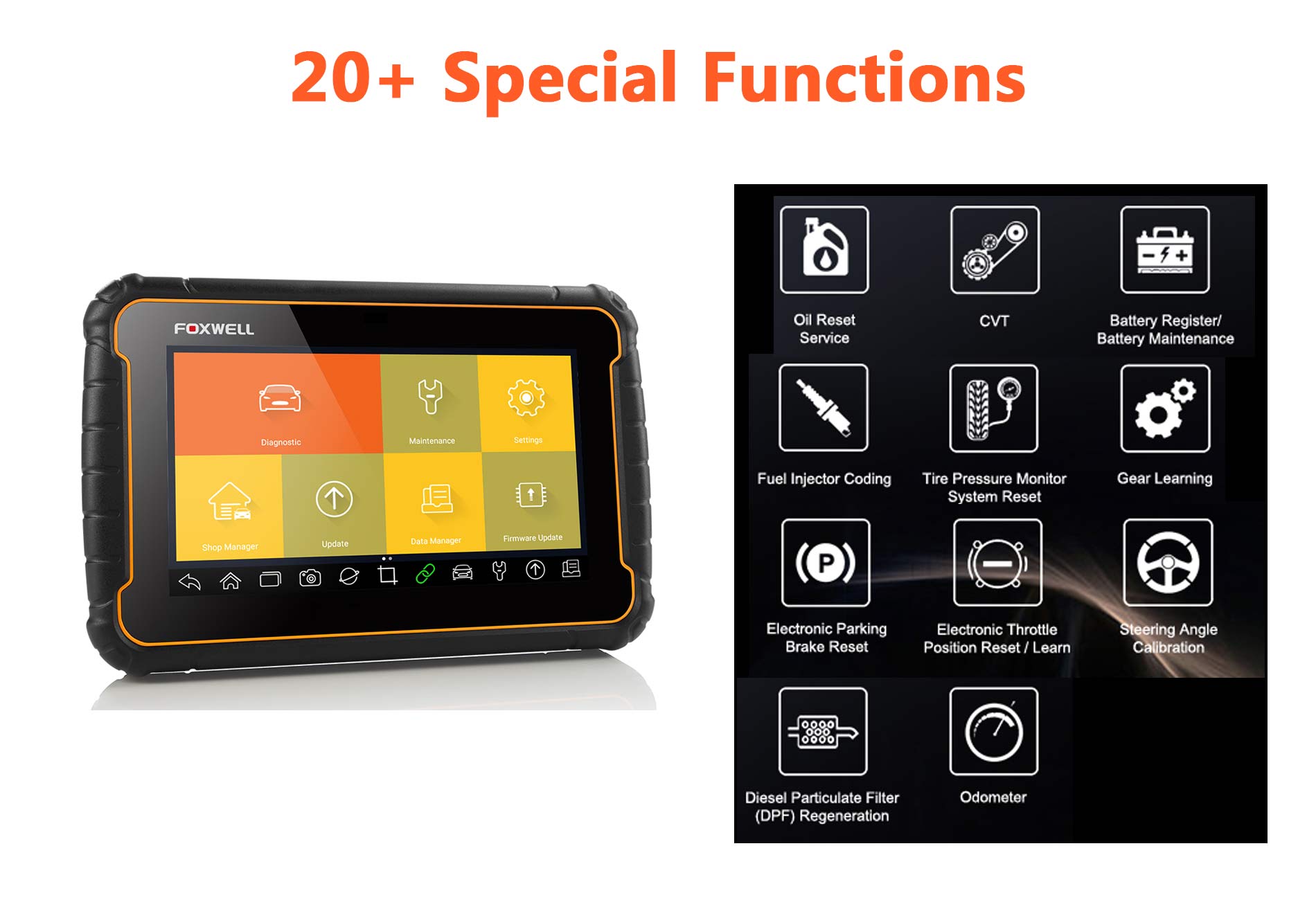 1. CVT (Continuously Variable Transmission), On these CVT transmissions, the timing of the release and application of elements (clutch packs and bands) is controlled by the transmission control module (a microprocessor).

2. SAS (Steering Angel Sensor), helps clear the fault steering angle sensor memories and plays an important role in the steering angle sensor calibration.

3. EPB (Electronic Park Brake System), it is important in the maintenance of electronic braking systemrsquos safety and efficiency when replace brake pad or motor.

4. DPF (Diesel Particulate Filter), specially works for Diesel Particulate Filter system with DPF regeneration, DPF component replacement teach-in and DPF teach-in after replacing the engine control unit.

5. Oil Light Service Reset, allows you to perform reset maintenance mileage and data intervals for a new calculation of Engine Oil Life system once changed the oil.

6.TBA/TPS (Throttle Body Alignment), vehicle's throttle position system sensor connected to the butterfly spindle and is primarily used to monitor the throttle position within an inner combustion engine. Due to its location, the throttle position sensor is able to effectively observe where the throttle butterfly valve is positioned.

7. BRT (Battery Replacement Reset), allows the scan tool to evaluate the battery charge state, monitor the close-circuit current, register the new battery replacement, and activate the rest state of the vehicle battery system.

8. Injector Coding, diesel injector code need programming ID and parameters to the ECU for accurate communication and Injection control system.

9. TPMS (Tire Pressure Monitoring Sytem), makes tpms senser in displaying sensor IDs from the vehiclersquos ECU, inputting TPMS sensor replacement IDs and activate tpms sensors.

10. Gear Learning, The scan tool monitors certain Camshaft position sensors signals to determine if all conditions are met to continue with the procedure for Engine running.

11. Odometer, exchange odometer, Let you can reboot instrument cluster parameters after replace new instrument panel.

12. A/F Adjust
Correspondingly change the fuel supply to change the steam production of boiler and maintanin the energy balance in the combustion process.

More functions waiting for you to explore.
Foxwell GT60 Professional Scanner Support Languages:
English is Default Language, if you need other language, please send me the SN Number when you receive it, we will help you change it.
Foxwell GT60 Professional Scanner Supports Vehicle Coverage: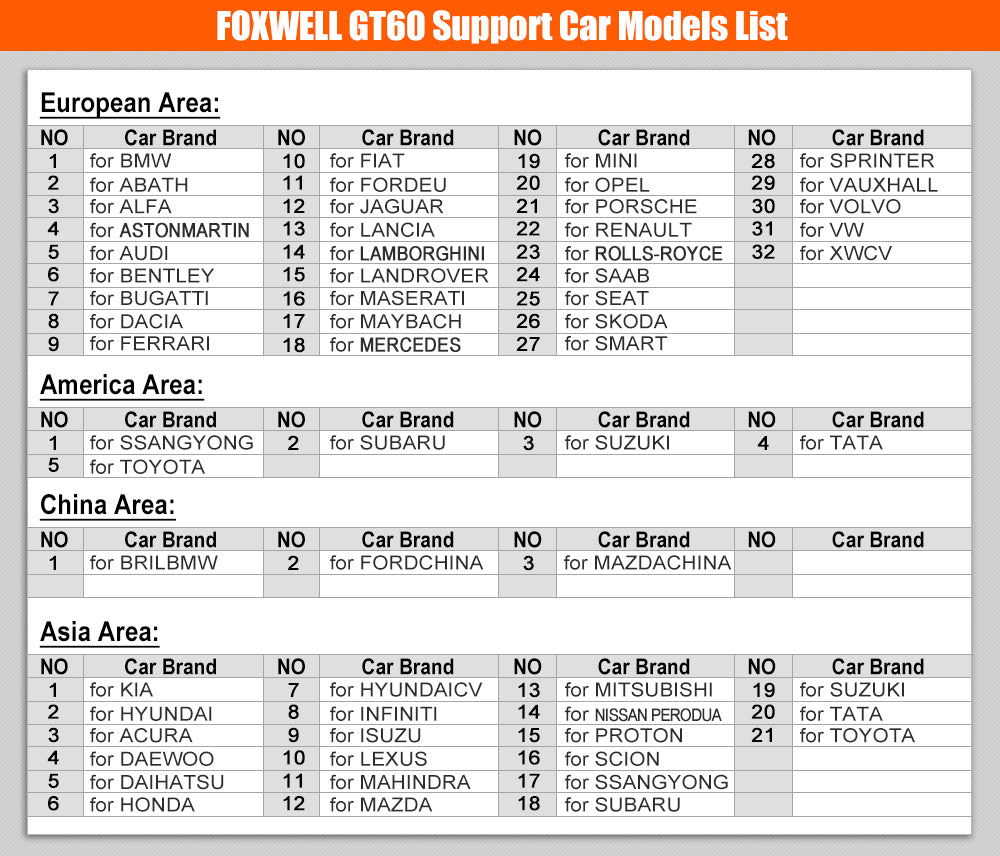 Free update online for 18 months,  you will always have the latest bug fixes, new vehicles, newly added parameters and functionality at your fingertips.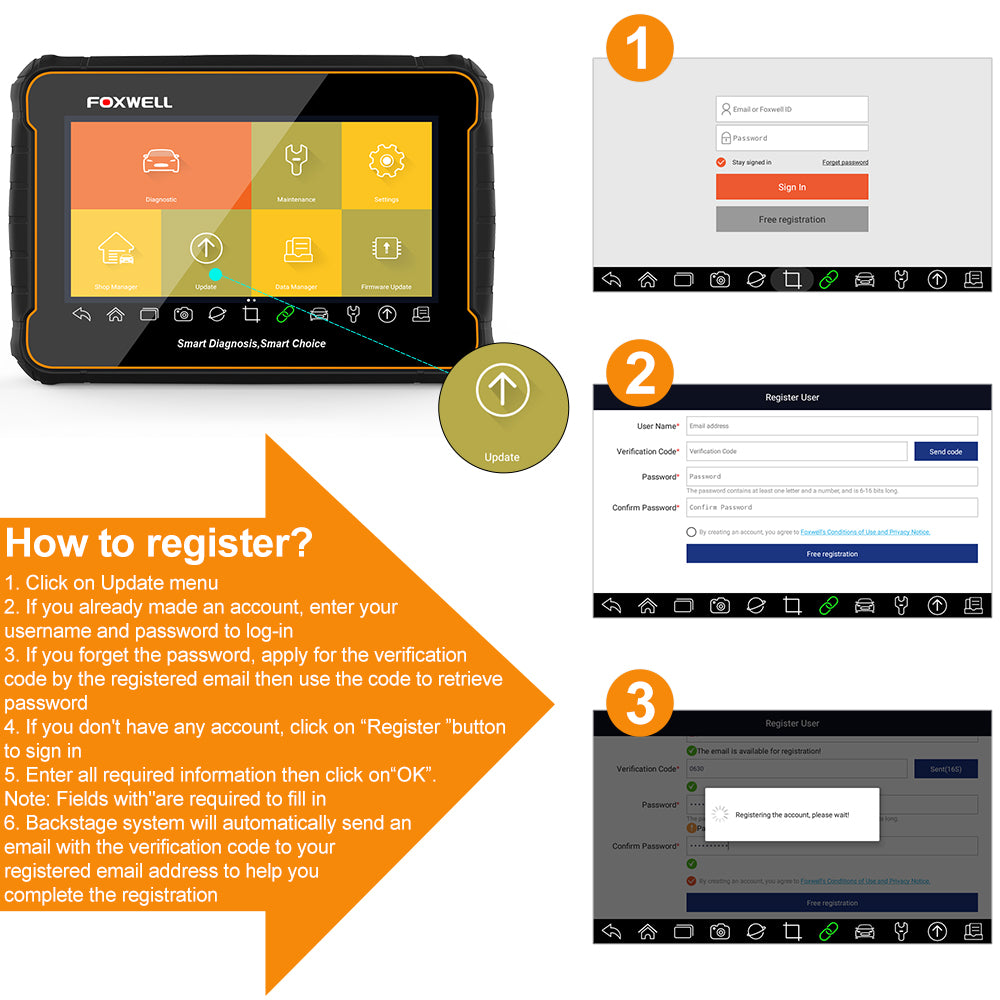 Tech Specs
|

Specifications

|

Kit Includes
|

Download
Next Generation Diagnostic Platfrom GT60 User's Manual V1.01.pdf
FoxAssist User Manual_Update.pdf
GT60_Quick Start Guide.pdf