Description
Note:
Foxwell NT650 Elite II doesn't support control module coding and programming.
Foxwell NT650 Elite II doesn't support key programming.

Foxwell NT650 Elite II Features and Benefits:
1. 2022 Newly Released: Upgraded Version of Foxwell NT650 Elite, Foxwell NT650 Elite II has upgraded hardware.
2. Hardware Upgraded: With a large 5.5" HD touchscreen, 4000mAh powerful battery, 32G RAM and advanced Android 9.0 system, Foxwell NT650 Elite II offers you an excellent user experience.
3. 2 Main Systems Diagnosis: FOXWELL NT650 Elite II, the ABS & SRS scan tool can check the brake system, and reset airbag control module, making sure both critical systems working in perfect harmony together for your safe driving.
4. One-Click WiFi Update: With one-click update Via WiFi , you don't need to update through a windows computer, which is faster and more convenient.
5. 25 Reset Functions: Meet most of your daily maintenance needs.
6. Wide Car Coverage: 100+ car brands, 10,000+ models from the US, European and Asian car markets; still expanding.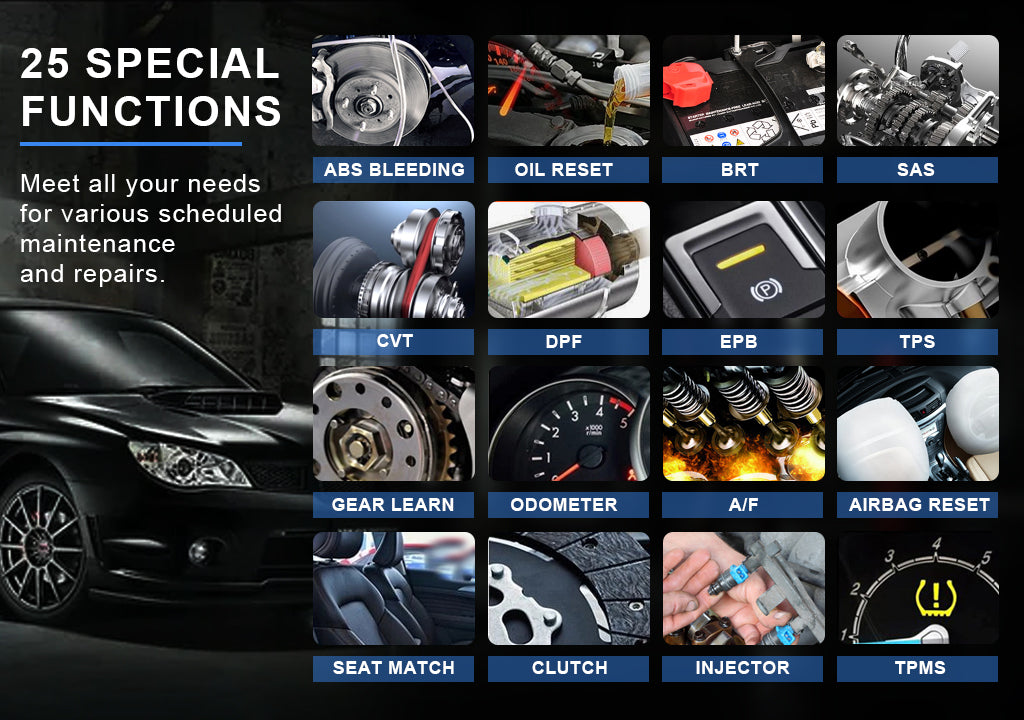 25 Hot Maintenance Services to Satisfy Your Demands
NT650 Elite II supports 25 most useful service and maintenance functions, such as EPB, Oil Reset, ABS Bleeding, TPS, SAS, TPMS, DPF, Injector, BRT, CVT, Gear Learn, Odometer, PFP, Seat Match, AFA, Clutch, Lang Change, Windowsdoor, Turbo, Headlamp, Transmission Adaption, TCMOIL, Airbag Reset, EVAP TEST, Tire Size Change, etc.
Two Mail System Diagnostics
Allows you to temporarily activate or control ABS/SRS system or component.
The Airbag Restraint is installed on the vehicle body. Foxwell NT650 Elite II can assists you to read/clear the fault codes, and turn off the airbag system light. NT650 Elite II is able to read the fault code in the ABS system, and once the problem is resolved, you can use it to clear the fault and reset the fault code, correspondingly, you can also turn off the ABS system warning light.
Universal OBDII Functions
When you use the Foxwell NT650 Elite II, forget about the complicated manual check-ups. Featured with full OBD functions: this diagnostic scanner can quickly fix the Check Engine Light warning on most OBD2/CAN compatible vehicles, easily access to the vehicle emission status with one simple click, also, there are other functions including I/M Readiness, Live Data Reading, Freeze Frame Data, EVAP System Test, On-Board Monitor Test, etc.
Advanced Hardware Upgrade
5.5" Color LCD with Touch Screen: convenient for you to operate and read.
1GB DDR3L Memory & 32GB SSD Hard Drive: useful for extending the storage, also reducing the possibility of slow response.
4000mAh Battery: nice for the continuous operation for the diagnosis process.
Broad Vehicle Compatibility of Foxwell NT650 Elite II
NT650 Elite II supports more than 100 car brands and 1000+ cars for almost all OBDII cars sold worldwide, with the supported year differing from 1996 to 2022.
Tech Specs
|

Kit Includes
|

Download