Foxwell NT530 OBD2 Scan Tool is the best-selling Foxwell Scanner, highly recommended by car owners such as BMW, Mercedes-Benz, Porsche, Chrysler, Toyota, etc. Foxwell NT710 is an upgraded version of Foxwell NT530. However, many users are still confused about the difference between these two similar products. In this article, we are comparing and explaining the details about the two products.
1. Comparison Chart Of Foxwell NT710 and Foxwell NT530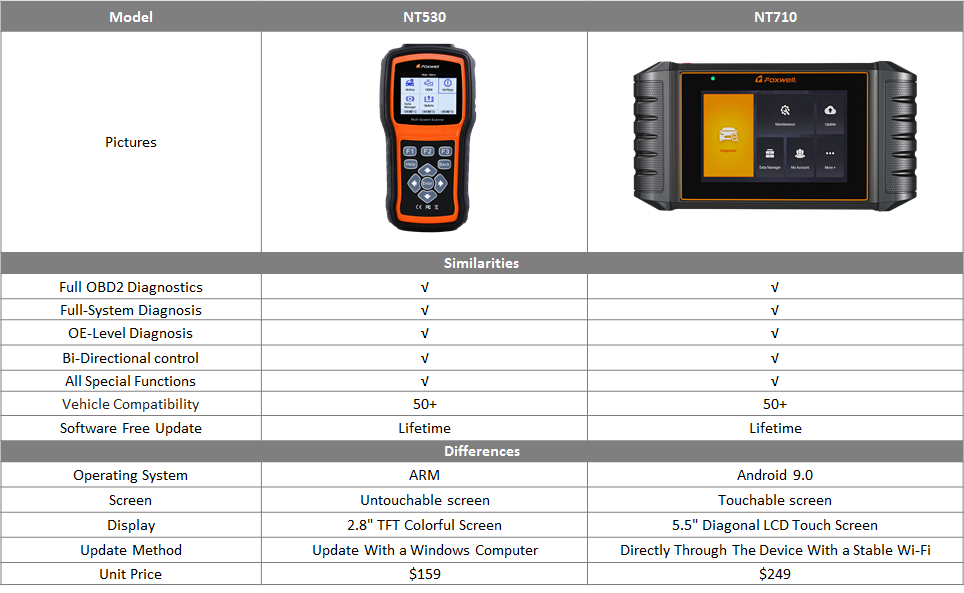 2. Similarities Between Foxwell NT710 and Foxwell NT530
As you can see in the table, Foxwell NT530 and Foxwell NT710 have the exact same features and functions:
OE-Level Full-System Diagnosis: both scanners featured with comprehensive diagnosis for all the electronic systems on the vehicle and allow you to perform the same level of analysis, diagnosis, maintain, and repair as an OEM dealer. Instead of going to an auto repair shop, you can solve simple problems or perform routine maintenance, which will save you valuable time and expensive costs.
Bi-Directional Control (Active Test): You can send commands to the ECU and monitor the operation of the actuators, allowing you to quickly check whether a specific system, component or subsystem is functioning properly.
Most Used Special Functions: both support most uesd of special functions for the vehicle diagnostics. You can find the most commonly required services, such as EPB, OIL RESET, ABS BLEEDING, AIRBAG RESET, DPF, INJECTOR, SAS, etc.
Wide Vehicle Coverage: both work on more than 50 vehicle manufactures in Asian, American, European, and other international markets, even the latest ones released in 2022.
Extension: both can download and install software according to your own requirements. When order either of these two scanners, you can choose software for one brand. If you use it for vehicles from different makes, you will need to buy extra software at $60 - $80 for each brand.
Lifetime Free Update: You can enjoy lifetime free update service provided by Foxwell. You can always get the latest system software and functions at no charge for this two OBD2 scanners.
3. Differences Between Foxwell NT710 and Foxwell NT530
Obviously, Foxwell NT530 is a handheld diagnostic scanner, but Foxwell NT710 is a tablet device. With the updated hardware, they are also different in the configurations and specifications.
Operating System: Foxwell NT530 uses ARM operating system, while Foxwell NT710 adopts Android 9.0 operating system. Foxwell NT530 is more and portable with the same functions, and Foxwell NT710 runs vehicle diagnosis and system software update more responsive than Foxwell NT530.
Display: Foxwell NT530 has a 2.8" TFT color screen, as Foxwell NT710 is equipped with a 5.5", Color LCD Touch Screen. With larger size and better pixel, Foxwell NT710 provides better experience in reading and operating.
Update Method: Foxwell NT530 needs a Windows computer to update, though Foxwell NT710 needs a stable Wi-Fi connection. You can update Foxwell NT710 system software without extra device, which is more convenient than Foxwell NT530.
Price:

Foxwell NT530 is priced at $159, the best choice for users with a budget of less than $200 who own a Windows computer and do not too concern about the diagnostic speed.
Foxwell NT710 is priced at $249, the

 

best choice for users with a budget of less than $250, who prefer a fast and efficient diagnostic speed and a convenient and easy upgrade method.
Foxwell always values and listens to the voice of users in order to provide better service and product upgrades. If you have any other ideas for scanners, please leave your comments.